Master Suites
Never settle for anything less than your dreams: treat yourself to a holiday of a lifetime in one of our magnicent master suites.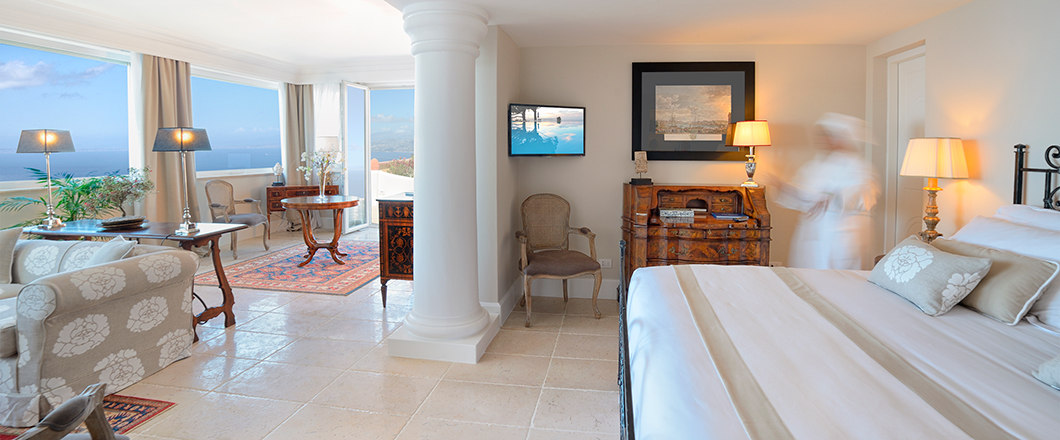 Capri Master Suite
This unique suite occupies the entire top floor of the hotel. With more than 80sqm of light-filled living and sleeping space and 180sqm of sun-soaked terrace and roof garden, this penthouse boasts the best views in the whole of Capri. More than just a room - this is a dream come true! Don't believe us? Just take a look at the photos!
A special elevator code key whisks you directly to your suite. The marble fireplace which takes pride of place in the light-filled living room, dates back to the 18th century and the French rule of Naples. The French Fleur de Lis motif on the fireplace testifies to both the past and future: two hundred years after it was used to decorate the fireplace, Relais & Chateaux chose this same coat of arms as its symbol!
There are stunning views from every window of every room, but the most breathtaking are those waiting to be seen from the terrace. Abundant in Mediterranean flowers and olive trees, the terrace features a large wooden deck, furnished with stylish sofas, tables and chairs and perfect for hosting small private parties.
Book online or send a request or call +39 081 8373395
---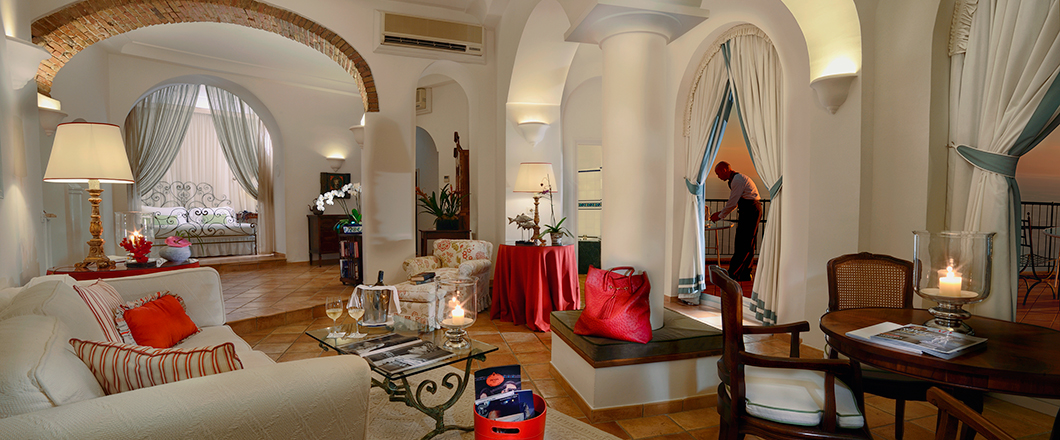 Caesar Master Suite
Characterized by graceful arches and classical columns, this sumptuous open space suite has been designed to reproduce the architectural style of Ancient Rome.
A night zone with inviting queen size bed, an elegant living space furnished with comfortable sofas and armchairs, and a magnificent Jacuzzi tub with view: this suite is fit for an emperor!
Whilst relaxing on the suite's terrace or in their private garden, guests can enjoy a 180 degree view of the sea surrounding Capri. From the garden, guests are granted direct access to Caesar Augustus' infinity pool.
Book online or send a request or call +39 081 8373395
---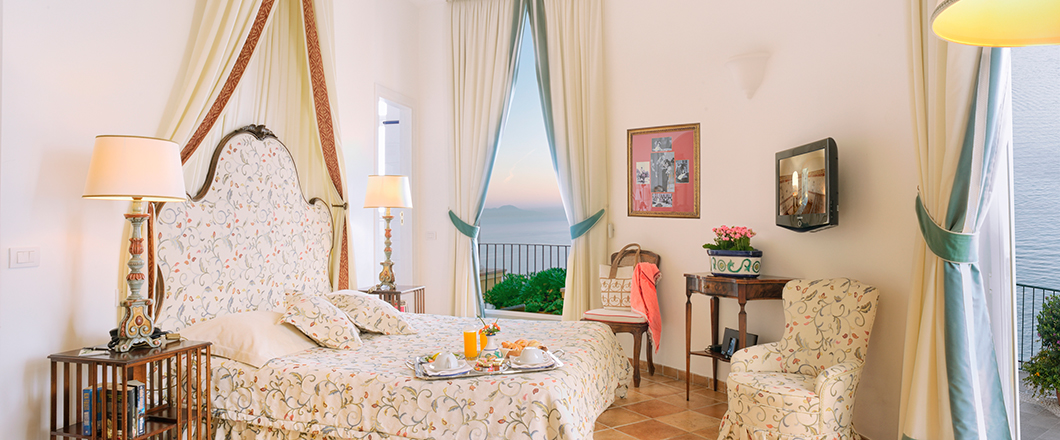 Farouk Master Suite
Sixty years ago, King Farouk of Egypt would reserve this luxurious suite in the Hotel Caesar Augustus all year round. Today, this charming open space suite is still decorated with its original antique furniture. The suite's bathroom facilities are situated in two separate rooms: one with large walk-in shower and hand-painted ceramic wash basin and toilette and, one with double bowl vanity and sensational sea view Jacuzzi.
Featuring a Queen size bed, free Wi-Fi, Led TV with satellite channels and a docking station, the suite boasts magnificent 180 degree views and a panoramic colonnaded terrace from where to best enjoy them!
Book online or send a request or call +39 081 8373395
---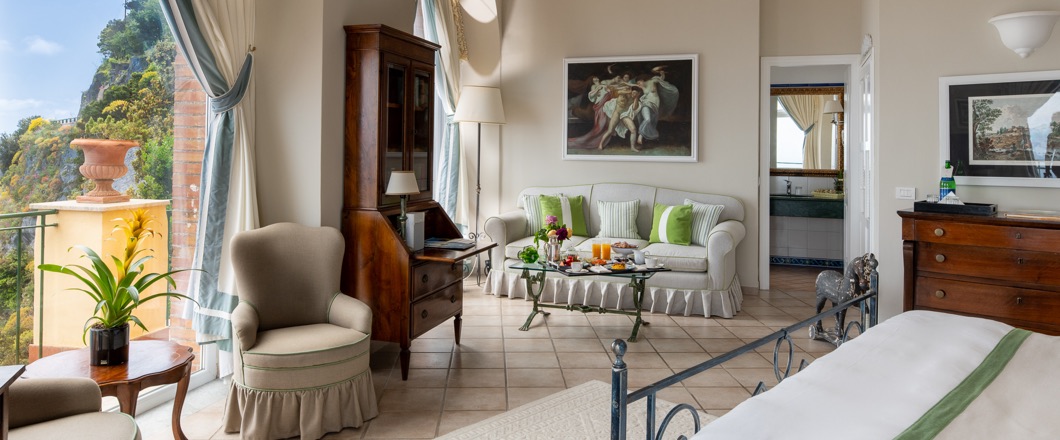 Tiberio Master Suite
If it's romance with a view you're after, you'll love the Tiberio suite, which features a fabulous bed from where you can enjoy the most amazing views of Capri, Mount Vesuvius, the Bay of Naples.
And if you think the view from the bed is amazing, wait 'til you see the one from the bathroom! Fitted with marble surfaces, a vanity mirror, hairdryer and olive oil bodycare products, this suite's bathroom features a Jacuzzi tub positioned so as to afford bathers the most unforgettable sea views. From the private terrace, yet more gorgeous views of the sea surrounding Capri can be seen.
Book online or send a request or call +39 081 8373395
---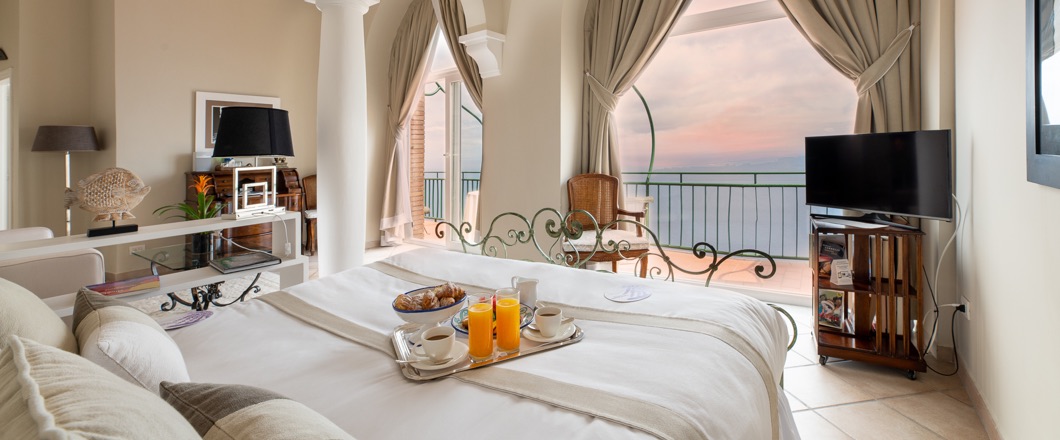 Vesuvio Master Suite
The Vesuvio Suite is an exclusive space boasting breathtaking views of Mount Vesuvius and the whole of the Bay of Naples.
This open space apartment features a queen bed and a wonderfully palatial and panoramic bathroom with bath and shower, opening out onto a cliff edge terrace. The bathroom contains marble surfaces with double washbasin, natural olive oil personal care products, a vanity mirror, and hairdryer. Additional amenities in the suite include complimentary minibar, free Wi-Fi, and TV with satellite channels.
Book online or send a request or call +39 081 8373395
---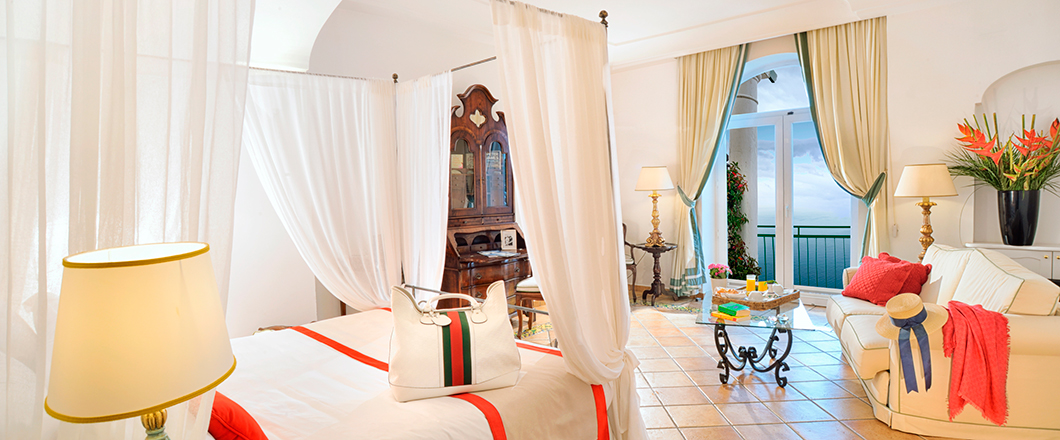 Tatiana
Named after the Grand Duchess Tatiana Nikolaevna Romanova, second daughter of Tsar Nicholas II, this suite is comprised of two connecting sea view rooms.
To book this suite, contact us +39 081 8373395 reservations@caesar-augustus.com