Press Review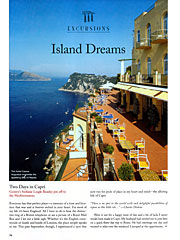 Everyone has that perfect placea memory of a time and location that was and is forever etched in your heart. For most of my life it's been England. All I have to do is hear the distinctive ring of a British telephone or see a picture of a Royal Mail Box and I let out a little sigh. Whether it's the English countryside or hustle and bustle of London, the place simply speaks to me. This past September, though, I experienced a spot that now vies for pride of place in my heart and mindthe alluring Isle of Capri.


"There is no spot in the world with such delightful possibilities of repose as this little isle" - Charles Dickens


Were it not for a happy twist of fate and a bit of luck, I never would have made it Capri. My husband had invited me to join him on a quick threeday trip to Rome. He had meetings one day and wanted to relax over the weekend. I jumped at the opportunity.


We turned some frequent flier miles into tickets and were set. A few days before the trip, a conversation with a friend in New York turned into an invitation to stay at the glorious Hotel Caesar Augustus on Capri. She asked if we would consider skipping our Roman weekend and venture out to the island instead? Both of us thought it sounded like a fine idea, but reaching Capri on a whim is a bit of a challenge. Anyone who's ever had to depend on an Alitalia flight arriving precisely on time in order to catch the last ferry of the day from Naples to Capri understands just how big a gamble this was.
Ahh, but sometimes gambles do pay off. For all other travelers I'd recommend booking this further in advance and leaving plenty of time for flight delays and the odd Italian baggage handler strike, but don't give up on the ultimate joy of experiencing Capri. So many American tourists treat Capri as a day trip, taking the crowded summer ferries over and back before sunset. Quite frankly, I think they miss the whole point. Capri is a place to be savored and, at the very least, try to spend at least one night on the island. We had two spectacular evenings and wished for many more.
After a lightening storm in Rome that kept our plane on the tarmac for two hours and a mad sprint through the Capodichino Airport in Naples, we found a car to race us to the port, managing to scramble up the gangway just before the ship left the dock. Along with the gentle waves of the Bay of Naples, our traveler's tension seemed to wash away and just under an hour later, we docked at Capri's Marina Grande. A representative from the Hotel Caesar Augustus was waiting to whisk us up to the hilltop village of Anacapri and the Caesar Augustus' spectacular vantage point perched one thousand feet above the Mediterranean.
The evening air was heady with the scent of flowers and citrus, crisp and sparkling clean in the wake of the afternoon's storm. The charming staff greeted us by name and escorted us straight to the hotel's beautiful poolside restaurant. Our late arrival did not phase them in the slightest and the chef prepared a feast of Insalata Caprese, perfect risotto, and a divine almond cake for dessert, all paired with distinctive Italian wines.
The 5star Hotel Caesar Augustus has been a favorite of celebrities and dignitaries for over 60 years, thanks to the impeccable hospitality of the Signorini family that has pampered guests for three generations. The hotel consists of 56 guest rooms and suites that spread between the property's original villa and a newly built smaller villa. All of the guest rooms boast jawdropping views of the Bay of Naples with the Sorrentine Peninsula and Mount Vesuvius beyond. Most rooms have balconies, spacious sitting areas, fourposter beds, and luxurious bathrooms with whirlpool tubs.
Hungry from our journey, we savored every last morsel and eagerly collapsed in the comfort of our room. In the morning, Capri's charms were immediately evident, set like a brilliant raw tourmaline jutting out of the piercingly blue Mediterranean. The island's dramatic beauty is breathtaking. The emperor Caesar Augustus was one of the first to recognize the island's charms, choosing to spend months at a time on Capri. Later, his adopted son Tiberius would be responsible for relocating the seat of government from Rome to his decadent Villa Jovis on Capri for years at a time.
We took a stroll through hotel's gardens (which overlook the ruins of Tiberius's Villa Jovis) returning to the dining room for a marvelous breakfast of fresh fruits, rich coffees, and pastries. The illusionedge pool just outside the restaurant spills over two levels, enticing guests to lazily enjoy the day in its splendor.
Energized by our extraordinary surroundings, we decided to explore the island a bit before we surrendered to enjoying life 'a la piscina.' A short walk past the hotel's gates took us into the heart of the village of Anacapri. Shopkeepers were busily unfurling awnings and opening shutters, café owners were setting up tables and chairs, and locals (the only people on the streets at the time) were zipping hurriedly past us on errands before work. In many ways, this is the Italy one sees in films, the real Italy, a working, breathing village untouched by tourists for a few hours at least.
But the tourists bring their Euros and in Capri an awful lot of those Euros come from the jet set. During the summer, Valentino docks his yacht in Capri with guests who range from Gwyneth Paltrow and husband Chris Martin to Sheryl Crowe and Lance Armstrong. The day I left San Francisco for Capri I interviewed lingerie designer Josie Natori and handbag designer John Truex of Lamberston Truex. After I mentioned that I was possibly going to spend time in Capri that weekend, they both insisted that I write down a few of their favorite places to shop and dine. Each had visited the island over the summer. Natori gleefully pointed to her shoes, saying, "I bought these on Capri."
Capri has its share of touristy boutiques selling Limocello in handpainted bottles and tshirts, but these shops give way to an allstar line up of designer boutiques and some of the world's most exquisite jewelry stores. In need of the latest Fendi mink jacket or Gucci boots? No problem. You'll find everything glamorous on the tiny cobblestoned streets and passages wending their way around Capri's famed Piazza Umberto.
After window shopping and a long walk through the botanical gardens above the Marina Piccolo, lunch beckoned back at the Hotel Caesar Augustus. A dish of capellini pomodoro bursting with ripe tomatoes and fresh basil was washed down with a glass of wine by the pool. A leisurely swim and it was time for more exploration.
We chose to take a boat trip circumnavigating the island and stopping at the world famous Grotta Azzurra, ending up back at the Marina Piccolo just in time for dinner at a café near the Piazza Umberto. The sound of a soprano singing an aria live rippled through the air, adding to the magic.
An early morning wakeup call was necessary to catch the ferry back to Naples, but as we watched the little island fade into the horizon, we vowed to return very soon.