Press Review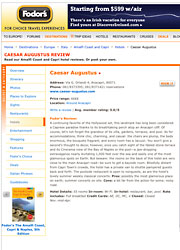 Hotel Caesar Augustus
Fodor's (01/06/2010)
A continuing favorite of the Hollywood set, this landmark has long been considered a Caprese paradise thanks to its breathtaking perch atop an Anacapri cliff. Of course, let's not forget the grandeur of its villa, gardens, terraces, and pool. As for accommodations, think chic, charming, and casual: the chairs are plump, the beds enormous, the bouquets fragrant, and every room has a Jacuzzi. You won't give a second's thought to decor, however, once you catch sight of the fabled stone terrace and its Cinerama view of the Bay of Naples or the pool-a jaw-dropping extravaganza nearly levitating 1,000 feet over the sea and easily one of the most glamorous spots on Earth.
But beware: the rooms on the back of this hotel are very close to the main Anacapri road-be sure to get a bayside room. Blissfully distant from Capri Town's crowds, the hotel has a private van to shuttle pampered guests back and forth. The poolside restaurant is open to nonguests, as are the hotel's lovely summer weekly classical concerts. Pros: possibly the most glamorous place on earth; summer concerts on site. Cons: a bit far from the action for some; noisy road.

Hotel Details: 55 rooms - In-room: Wi-Fi. - In-hotel: restaurant, bar, pool. - Rate includes: Full breakfast - Credit Cards: AE, DC, MC, V - Closed: Closed Nov.-mid-Apr.