Press Review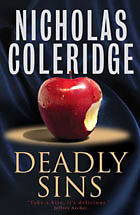 Deadly Sins
Nicholas Coleridge (26/08/2009)
He was waiting for her at the barrier with a porter ready to carry her luggage. A car was parked outside the terminal to take them to the port to board the hovercraft over to Capri. Miles barely spoke when she arrived; he seldom did - it was his way. Nor did he embrace her. She asked him, 'How was Turin? You didn't say what you were doing there when you rang.'

'Business meetings.' He shrugged. 'Not my favourite city, Turin.' He sat brooding in silence in the car to the port, and then for the journey across to Capri.

They arrived at Capri Harbour, where an open-topped hotel taxi with a striped canopy was waiting to take them up the steep hill to Anacapri, and then on to their hotel, the Caesar Augustus, close to the summit. Still Miles had barely addressed a word to her.

On previous trips Serena was mortified when he'd behaved like this, wondering what she'd done to displease him. Despite regarding herself as a tough nut, she was definitely rattled. He was like a television or a piece of computer equipment, normally operating at full capacity, that had lapsed into sleep mode, and a sinister, passive-aggressive mode at that.

The hotel was typical of the places Miles liked: five stars, civilised and deferential, with large suites, marble bathrooms and long - views. The view from the Caesar Augustus was especially magnificent; from the terrace was a panorama of the whole of the Bay of Naples with Mount Vesuvius smoking gently on the horizon, and Sorrento and the island of Ischia just visible in the haze. Speedboats and super-yachts criss-crossed the bay.

They were shown to their suite and, immediately they were alone, Miles commanded her, as she knew he would, to strip naked and lie face up on the linen bedcover. He made no effort to undress himself, though he unbuckled his watch a Patek Philippe with leather strap - placing it on the dressing table.

Assessing her critically on the bed, he said, 'Not bad. A pound, two pounds overweight would we say? And your bush needs trimming.'

Very slowly and carefully, he removed his suit trousers and boxers and folded them over a hanger. Then, menacingly erect, he rolled on top of her.