Press Review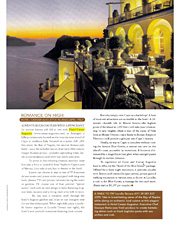 ADVENTUROUS COUPLES WITH A PENCHANT for ancient history will fall in love with Hotel Caesar Augustus (www.caesar augustus.com) in Anacapri, a hilltop community located on the mountainous island of Capri in southern Italy. Situated on a scenic cliff 1,000 feet above the Bay of Naples, the ancient Roman style hotel once the secluded manor of an early 20th century émigré Russian prince provides captivating vistas, lavish accommodations and other top notch amenities.
To arrive at this towering treasure, travelers must first take a ferry or hydrofoil from Naples to Capri's port of Marina, then take a taxi, bus or shuttle to the hotel.
Lovers can choose to stay in one of 55 luxurious deluxe rooms and junior suites equipped with king size beds, plasma TVs and private balconies facing the water or gardens. Or choose one of four premier "special suites," each with its own design scheme featuring kingsize beds, Jacuzzis and a living room area with terraces.
By day, take a romantic stroll through the hotel's fragrant gardens and relax on sun loungers near the sea blue infinity pool. When night falls, enjoy a candlelit dinner together at Lucullo Terrace (see right), the hotel's new poolside restaurant featuring local cuisine.
But why simply view Capri as a backdrop? A host of must see attractions are accessible to the hotel: A 20 minute chairlift ride to Mount Solaro the highest point of the island at 1,932 feet will take your relationship to new heights, while a tour of the ruins of Villa Jovis at Mount Tiberio once home to Roman Emperor Tiberius will provide a glimpse into Capri's history.
Finally, no trip to Capri is complete without visiting the famous Blue Grotto, a natural sea cave on the island's coast, accessible by motorboat. It becomes illuminated by a magnificent blue glow when sunlight passes through its narrow entrance.
To experience all Capri and Caesar Augustus have to offer, try the "Scent of the Blue Island" package. Offered for a three night minimum, it provides couples with flowers and limoncello upon arrival, private guided walking excursions to various sites, a dinner at Lucullo, a visit to the Blue Grotto, a massage for two and more. (Rates start at $3,197 per couple.)

A TABLE TO TRY Lucullo Terrace (011 39 081 8373395) while dining on authentic local cuisine at this elegant restaurant in Hotel Caesar Augustus. Executive Chef Giuseppe Resta uses fresh produce to create tantalizing dishes such as black tagliolini pasta with sea urchins and crab.